Get Air Conditioning (A/C) and Heating Services With Our 100% Satisfaction Guarantee!
Call us 24 hours a day • 365 days a year
Bagniefski Heating & Air Conditioning is a Trane Comfort Specialist Handling all Trane HVAC Products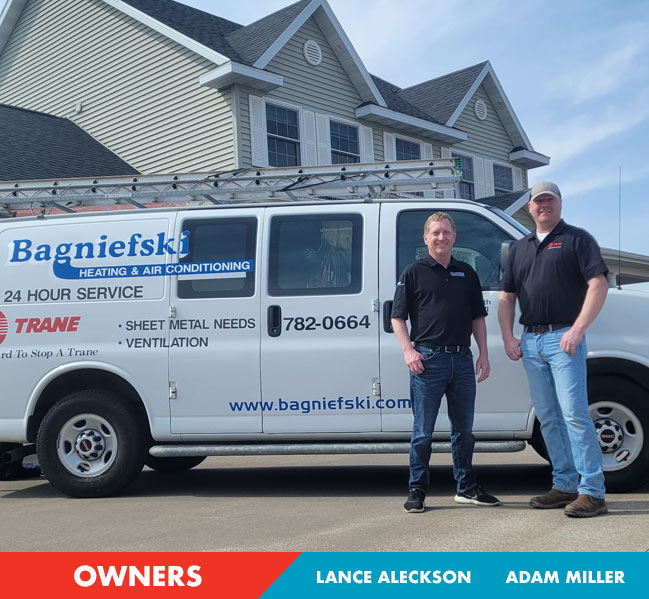 Bagniefski's team of knowledgeable technicians can service or repair any make or model of A/C or heating system.
Bagniefski Heating & Air Conditioning is also a Mitsubishi Diamond Dealer, specializing in Zoned Comfort Solutions and offering Ductless Mini-Splits in cooling or heat pumps.
"I can't say enough good things about the quality of service and comparative costs for those services. Bagniefski provided the best estimate for a high efficiency boiler system. The installation was done in less than a day. The furnace room never looked better with the boiler installed on the wall, replacing one that took up space on the floor. This past heating season was the most comfortable and economical in 52 years. In addition, I received two sizable rebates for choosing a high efficiency unit! I highly recommend you choose Bagniefski for reliable, honest, friendly service."
"Shortly after purchasing our home, Tim's team replaced an aging and inefficient hot water boiler and water heater with a new high efficiency condensing boiler and indirect fired water heater. His technicians were well-organized, efficient and the team lead was very knowledgeable about how to configure the advanced technology that controls these units for our home. We recently turned to Tim again to consult and help us sort through options when converting a sun porch to a four season room. His questions, research and recommendations helped us pick just the right solution for our application."
24 Hour Emergency Services
We have 24 hour emergency services available at (608) 782-0664.
Our call center will answer your call after hours and then page one of our on-call technicians.
Within minutes, you will receive a call from our technician to prioritize your request.
We can even provide immediate comfort to a situation (e.g. portable heaters), while planning / repairing a solution.
100% New Installation Guarantee
Your satisfaction is our top priority. You will not pay a penny until you are 100% satisfied with your installation.
Creative Financing at 0%
Life's full of surprises, so we created a payment option for those of you that may require our services but simply do not have the money available.
Qualified applicants may be eligible for 6 months of payments at 0% interest.
We will personally create and manage the payment plan. We do not use a 3rd party finance company.
Credit checks may be required.
Please call to inquire about our program.
Free Estimates
Lance Aleckson and Adam Miller, owners of Bagniefski Heating & Air Conditioning, have over 50 years of combined experience serving La Crosse Area Residents and Businesses. Adam or Lance will visit your home or business to provide you with a free estimate.
10 Day Upgrade Reimbursement Option
Sometimes we make decisions we later regret. This program has been put into place to make correcting a previous decision a lot less costly. How it works, if you decide to upgrade to a new system, you may be eligible for a complete or partial reimbursement of your costs, parts and labor included. Each situation is individually evaluated, to maximize your reimbursement. Exclusions may apply so contact us for details.
Service You Can Trust
Lance Aleckson

Owner and Service Manager, 30+ years experience


Adam Miller 

Owner and Installation Manager, 20+ years of experience

All technicians and installers receive ongoing training multiple times per year.
Certified Trane Comfort Specialist
Mitsubishi Diamond Dealer
Affiliations
La Crosse Area Builders Association
100% Trane Club
Did you know that besides residential work, Bagniefski Heating & Air Conditioning also handles…
Light Commercial Work
We can design and build a Heating and Cooling System, to meet your needs.
If required, we have an excellent designer, who can help lay-out a system that will meet State Approval.
"I couldn't be happier! Work done so quickly. Service installers know their stuff, very courteous also and the financing is unbelievable awesome. Their office lady Doris also showed me extra rebates that I had coming."