Get Air Conditioning (A/C) and Heating Services With Our 100% Satisfaction Guarantee!
Call us 24 hours a day • 365 days a year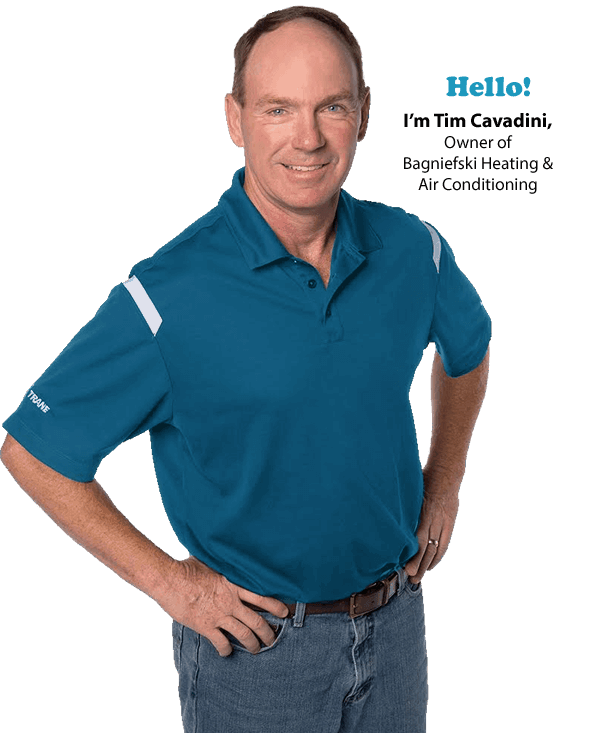 We're a certified Trane Comfort Specialist, but we can service every brand of A/C or heating system.
You don't pay a penny until you are 100% satisfied with our HVAC installation.

– Tim Cavadini, Owner
"Bagniefski is Awesome!! What a good example of teamwork they are in all aspects, from the initial visit to do the estimates, to the office work, to the actual removal of old & installation of new!!! Will definitely use again and recommend to others!!"
24 Hour Emergency Services
We have 24 hour emergency services available at (608) 782-0664
Our call center will answer your call after hours and then page one of our on-call technicians
Within minutes, you will receive a call from our technician to prioritize your request
We can even provide immediate comfort to a situation (e.g. portable heaters), while planning / repairing a solution
100% New Installation Guarantee
Your satisfaction is our top priority
You do not pay us a penny until you are 100% satisfied with our installation
Creative Financing at 0%
Life's full of surprises, so we created a payment option for those of you that may require our services, but simply do not have the money available.
Qualified applicants may be eligible for 6 to 12 months of payments at 0% interest
We will personally create and manage the payment plan. We do not use a 3rd party finance company
Credit checks may be required
Please call to inquire about our program
Free, Expert Consultation and Estimates
Getting an expert to evaluate your needs is critical to properly meet your needs
Tim Cavadini, the owner of Bagniefski Heating and Air Conditioning, will personally visit your home or business to provide you with a free on-site consultation and estimate
Tim has over 40 years of experience serving La Crosse area residents and businesses
10 Day Upgrade Reimbursement Option
Sometimes we make decisions we later regret. This program has been put into place to make correcting a previous decision a lot less costly. How it works:
If you decide to update to a new system within 10 days of repairs or service, you may be eligible for a complete or partial reimbursement of your costs
Parts and labor are included
Each situation is individually evaluated to maximize your reimbursement
Exclusions may apply. Please contact us for details.
Service You Can Trust
Tim Cavadini, Owner & Estimator: 40 years of experience
Lance, Service Manager: 28 years experience
Doris,  Office Manager: 12 years of experience
All technicians and installers receive ongoing training multiple times per year
We are a member of the La Crosse Area Builders Association, La Crosse Builders Exchange, Certified Trane Comfort Specialist, and a member of the 100% Trane Club
Did you know that besides residential work, Bagniefski HVAC also handles…
Light Commercial Work
We can design and build a Heating and Cooling System, to meet your needs.
If required, we have an excellent designer, who can help lay-out a system that will meet State Approval.
"I couldn't be happier! Work done so quickly. Service installers know their stuff, very courteous also and the financing is unbelievable awesome. Their office lady Doris also showed me extra rebates that I had coming."